Innspace & HOYA Vision Care
What do optics and space have in common? Quite a lot! Anyway – check it out for yourself.
HOYA Vision Care announced a new global brand positioning strategy under the slogan "For Visionaries." Activities will focus on collaborating with and supporting optical salons, as well as developing partnerships with the unique, visionary Innspace project, in which a team of researchers analyze and create space designs.
Support for optical stores
Ongoing cooperation with optical shops is the main activity to be implemented under the "For Visionaries" strategy. Dedicated partnerships are aimed at supporting the development of opticians.  For Hoya, eye care professionals are the silent heroes, the visionaries. They are the ones who ensure that patients can see properly and from the company's perspective, they are the true visionaries, the heroes of our time.
Development of the Innspace space project
The brand defines visionaries as people who apply unique solutions and stay ahead of trends, who are not afraid of new challenges. New technologies and a visionary approach in their search are values close to the Hoya brand. That is why as part of its CSR activities the company has established cooperation with the Innspace project, which is unique in Poland.
"We decided to support a team of young people fascinated by space because we believe in visionaries and their potential. We appreciate all those who reach with their eyes further and break the schemes. Our activities will support the Innspace crew and in the long run we may be able to send an eyepiece lens into the stratosphere." – comments Maja Kornacka, from Hoya.
And we as the Innspace team are looking forward to working together in 2021. There are already first results! The project of the base on the Moon, on which we worked in the last few months, took fourth place in the Moon Base Design Contest. Now we have started working on a stratospheric mission and a base on Venus, so you can see for yourself – we are worth following 🙂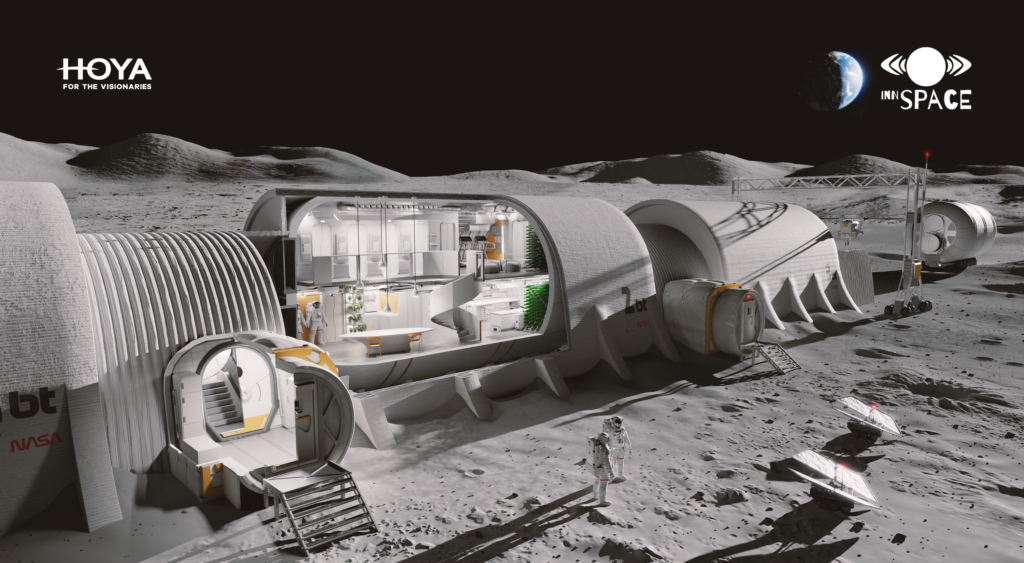 Articles created in cooperation with HOYA
Cosmic collaboration with HOYA